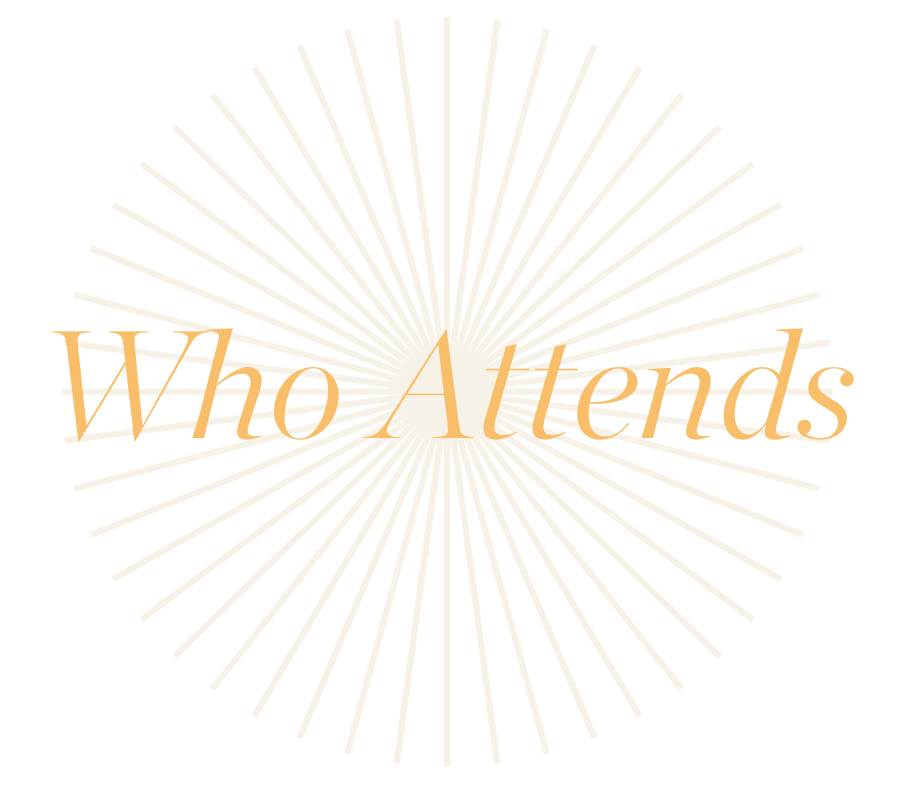 DESIGNED FOR DECISION MAKERS ACROSS THE ENTIRE ALUMINUM VALUE CHAIN
who are looking for new metal suppliers & clients, latest market intelligence and who want to expand their understanding of the aluminum industry and price outlook.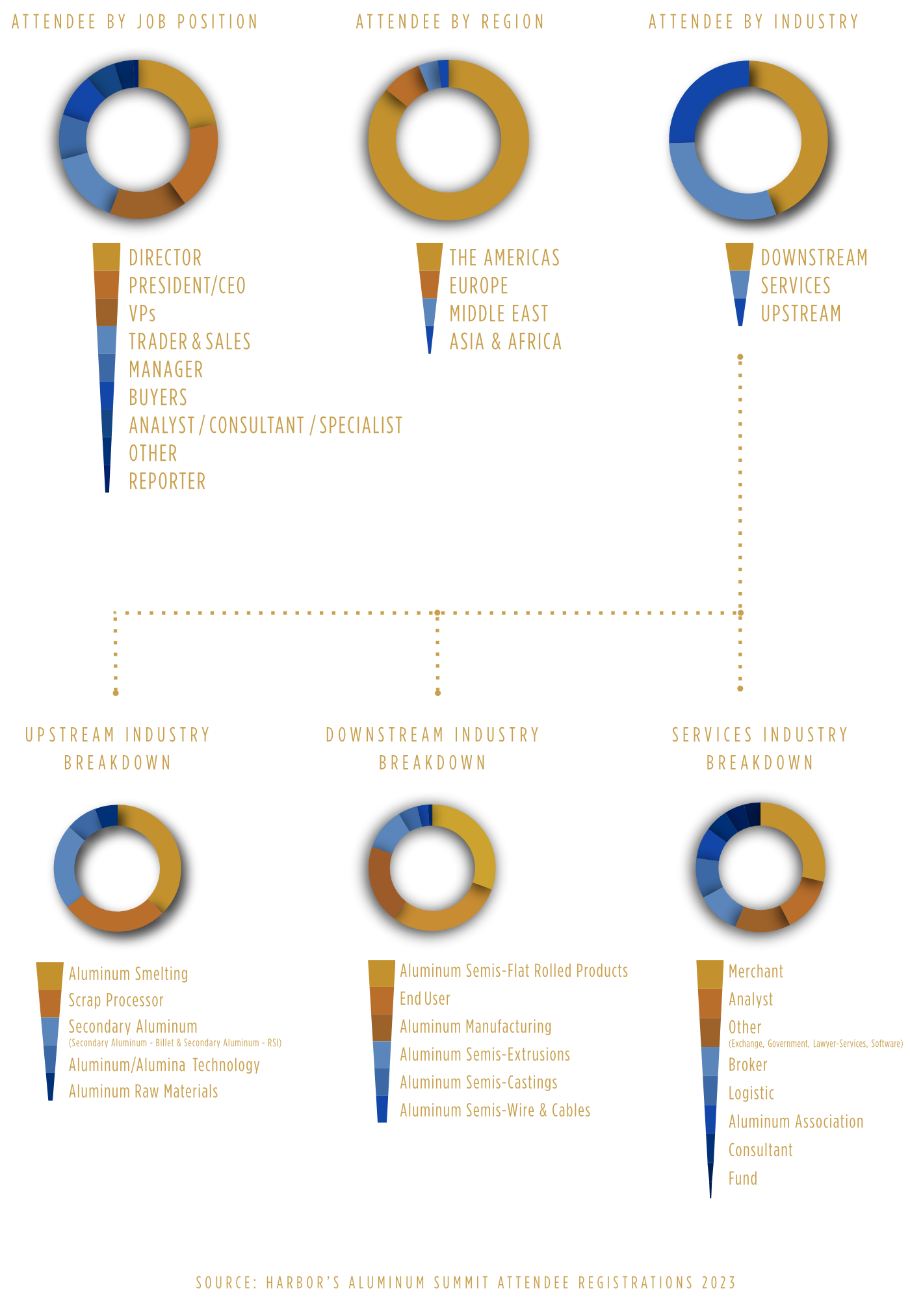 OVER 900 DELEGATES & 400 COMPANIES
3A Composites USA
AA Metals
AB InBev
ABC Aluminum Solutions
ABM Trading Imports & Exports
ABN AMRO Holdings USA
Access World
Adams Scrap Recycling
Admiral Beverage
Advanced Magnesium Alloys
AEGIS Hedging Solutions
AFCO Industries
Agfa NV
Aisin World Corp. of America
AK Steel
Albecour
Albemarle
Alberta Beverage Container Recycling
Albertsons
Alcoa
Aleris
Alexandria Industries
Alexin
Alimentos Maravilla
Almex USA Inc.
ALMEXA Aluminio
ALNA PACKAGING CO.              ALP Aluminum Co. Ltd.
Alpert & Alpert Iron & Metal
Altaiseer Aluminium
Alter Trading
Aluar Aluminio Argentino
Alubar Metais e Cabos
Alubase Industry Co.
Alubin de México
Aludyne
Aluex LLC
Alukoenigstahl
ALUMAG
Alumico FZ LLE
Alumicore
Alumina
Aluminera Extrusion, S.A.
Aluminios Desoxidantes de Occidente
Aluminios y Derivados Arma
Aluminitrade SA de CV
Aluminium Bahrain (ALBA)
Aluminium Duffel BV
Aluminum Dynamics
Aluminum Line Products
Alumisource
Alumni Metals
ALUPCO
AluQuebec
Alurgia
Aluval s.l.
Aluxite
Alwood
Alyex Aluminum
AMAG Austria Metall
American Aluminum Extrusion
American Canning LLC
American Industrial Partners
American Iron & Metal
AMG Aluminum
AMISSA
AMX Group
Ancora Warehousing & Logistics, LLC
Andersen
Anker Industries
APEL Extrusions Limited
Apex Aluminum Extrusions
Apogee
Appleton Supply Company, Inc
Arca Continental
Arconic
Ardagh Metal Beverage Europe
Ardagh Metal Packaging Brasil Ltda
Ares Metal Trading
Argentem
ARZYZ
Asturiana de Aleaciones S.A.
Audubon Metals
Aurum Infraestructura
Automotive Aluminum Advisors
Avalon & Tahoe Mfg. Inc.
Azeraluminium
B N industries
Ball Beverage Can Americas
Ball Corp.
Bank of America
Bank of America
Bank of Montreal
Bank of Nova Scotia
Basic Metals
Beck Aluminum
Beer Institute
Bemis
Bengal Commodities Limited
Bhatt International Inc.
Bloomberg News
Blue Wolf Capital Partners
BMO Capital Markets
BMW Manufacturing
BNP Paribas
Bocar Servicios
Boeing
Bomarko, Inc
Bonnell Aluminum
BP
Brazeway
Bridgnorth Aluminium
Briggs & Stratton
Brown Brothers Harriman
Brown Gibbons Lang & Co.
Busche Sales & Technical Center
BUSS ChemTech
C. Steinweg (USA), Inc.
CANALUM
Can Art Aluminum Extrusion
Can Manufacturers Institute
Canex Aluminum
Canovation
Canpack
Caribbean Can Manufacturing
CASS
Castleton Commodities
Catty
CCMA
Century Aluminum
Cerveceria Centroamericana
Champagne Metals
Chart Industries
Chassix
Chemtura
CIA BRASILEIRA DE ALUMINIO
CIH Holdings MX
Citi Global Markets
Citigroup Energy Inc
C-KOE Metals
Clean Energy Buyers Institute
Cleveland-Cliffs Inc.
CMC Cometals
CME Group
CN Rail
Coca-Cola Femsa
Coca-Cola Southwest
Codepa Trading Gmbh
Coilplus
Comercializadora Century Recycling LLC
Comercializadora LH
Commodity Experts Mexico
Commonwealth Bank of Australia
Commonwealth Rolled Products
Cía. Cervecera de Nicaragua
Compass Metal Trading
Concord Resources
Conductores Monterrey 
Condumex
Consorcio Industrial Valsa
Constantia Flexibles International GmbH
Constellation Brands
Constellium Metal Procurement
Constellium Rolled Products Singen GmbH and Co. KG
Constellium Switzerland AG
Continental Aluminum
Converse Commodities
Copperweld Bimetallics
Corp. Ecuatoriana de Aluminio
Crown Holdings, Inc.
Custom Alloy Sales
Custom Aluminum Products
CVT International
D&W Fine Pack
D.E. Shaw
Daikin
Daktronics
Damco Aluminium Delfzijl
Dana
DEACERO
Denso Manufacturing
Department of Commerce
Dexter Axle
Distribuidora Arca Continental
Distribuidora La Florida S.A.
Diversified Global Products
DJJ Metals Group
DNB Markets
Dongwon Systems
Dowco
Dr. Pepper Snapple Group
Dubal America
Ducab Aluminium Co.
Duferco Steel LLC
Duralum
Dynamis Strategic Advisors
E D & F Man
Ebner Furnaces
Eccomelt
Ecotrade Mexico
Ecovery
ED & F Man Capital Markets
EGA America Inc.
ELG Haniel Metals
Ellwood Aluminum
Ellwood Special Steel Group
Elmet
Elval
Emirates Global Aluminium
Empire Recycling
Empire Resources Inc
EMR USA
EMX Capital
EN+Group
Encore Wire
Energy Sciencies Inc.
Englehart CTP
Envases Universales Ball de Centroamerica, S.A.
Envases Universales de Mexico
Envases Universales Rexam
EPAM USA
Euramax International
European Aluminium Association
Express Metals Recycling
Extal
EXTRUM S.A. DE C.V
Extrusiones Nacionales Vesta
Faztek, LLC
Ferrous Processing and Trading
Fiat Chrysler Automobiles
Fifth Third Bank
First Solar
Flack Global Metals
Florence Manufacturing
Florida Can Manufacturing
FLOTAMET
Fomento Productivo
Ford Motor
Fort Recovery Industries, Inc
Fracsa Alloys Queretaro
FRIEM
Fujian Xiangxin New Materials Technology Corporation Ltd
Fundicion de Aleaciones Metalurgicas
Fundición de Metales NAMA
FUNDICION DE RAMOS ARIZPE
Futura Industries
FW Metals
GARMCO USA
General Cable
General Extrusions
General Motors
Geomet Recycling LLC
Gerald Metals
GHI Hornos Industriales
Gibraltar Industries
GLE Scrap Metal
Glencore Ltd.
Globe Products Co.
Glomafer
Glorem
Goal Industries
Golden Aluminum
Goldenwest Metals
Goldman Sachs & Co.
Goldy Metals Trading
Goodman Manufacturing
Granges Americas
Great Dane
GreenCircle Certified, LLC
Greenwich Metals Inc
GREXIM
Grimco, Inc.
Grupo Baux
Grupo Fabeva
Grupo IUSA
Gulf Aluminium Rolling Mill B.S.C
Hammerer Aluminium Ind. Holding
Hatch
Hazelett Corporation
Headwall Partners
Heineken Global Procurement
Heneken Group
Henry Bath
Hindalco Industries
Hitachi Energy
HMA
Hoesch Metallurgie GmbH
Honda Development and Manufacturing LLC
Honda Trading America
Hubbell
Hulamin North America
Hunter Douglas Metals
Huron Valley Steel
Hydro – Extrusions NA
Hydro Aluminium Asia
Hydro Aluminum Metals
Hydro Precision Tubing
Hygrade Metal Manufacturing
Hyphen Resources
Ideal Aluminum Products
Imperial Group
IMSSA Manufacturing Services
Indalum
Independent Commodities Logistics
Industria Envasadora de Queretaro, S.A. de C.V.
Industria Mexicana del Aluminio
Industria Panameña de Cilindros
Industrial Furnaces Insertec
Industrious Labs
InHedge
Inland Empire Recycling
INOTAL Aluminiumfeldolgozo
Instituto Mexicano del Aluminio
Interfundi Capital
International Aluminium Institute
International Extrusions, Inc.
International Recycling Co
INTL FC Stone
Intl. Dominican Aluminum
Istanbul Ferrous and Non Ferrous Metals Exporters 
Istim Metals
Italinox USA
ITOCHU
IXM Trading
J.B. Poindexter & Co.
Jacobs Consultancy
Jamison Capital
JAS Consulting
Jefferies
JFE Shoji America
Jotun Powder Coatings
JP Morgan Chase
JRG Comercial SA de CV
Jupiter Aluminum Corp
JW ALUMINUM
Kaiser Aluminum
Kalischatarra Iron & Metal NM
Kataman Metals
Keith Titus
Keurig Dr Pepper
Kibar Americas
Kiewit
Klauer Manufacturing
Kloeckner Metals
Koch Supply & Trading
Kodak Graphic Comms. GmbH
Kohler
Kripke Enterprises
Kroger
Kromet Asia
Kubi Global Solutions LLC
andsvirkjun
Larson Manufacturing
Laurand Associates
Leading Edge
LeClaire MFG
LIASA
Liberty House Group
Ligas de Aluminio
Lippert Components
Livingstone Partners
LME Altesi
Loar Group
Lockton
Logan Aluminum
London Metal Exchange
Lorin Industries
Louis Dreyfus
Louis Padnos Iron & Metal Co.
MA'ADEN
Macquarie Bank
Magnode Corp.
Magpro LLC
Magrathea
Magretech
Manakin Industries
MANAKSIA ALUMINIUM CO LTD
Mandel Metals
Manganese Metal Company
Manna Capital Partners, LLC
Manufactura XME
Marco Metales de Mexico 
Marex Spectron
Mark Anthony Brewing Inc.
Market Vision
Markowitz Metals Group
Marubeni America Corporation
Matalco
MD Building Products
Mechem SA
Medalco Metals
Mendez Metal
Mercuria Energy Trading SA
Mercury Marine
Merit Aluminum
MET MX Trade
Metal Conversions
Metal Convertibility LLC
Metal Eutectic
Metal Exchange Corp.
Metal Source, LLC
Metales y Aleaciones Especiales
Metales y Aluminios SA
Metallhandelsgesellschaft Schoof&Haslacher mbH&CoKG
Metalmann International FZE
MetalMax Caribe LLC
Metaloop
Metals Consultants LLC
Metals Hub GmbH
Metals USA Flat Rolled Group
Metaluminunm
Metalwest
MetalX
MexBest GmbH
MGM Management
MHX
MI Metals, Inc.
Midsouth Aluminum
Midwest Metals
Mighty Earth
Ministere de l'Economie et de l'Innovation
Ministry of Investment
Mitsubishi Colombia
Mitsubishi International
MITSUI & CO., LTD.
Mitsui Bussan Commodities
MODERN METAL ALLOYS 
Molson Coors
Molten Metal Equipment Innovations
Monster Energy
Morgan Stanley
MOZ Agencias Aduanales
MQP Limited
MSCI
MSG Group Co.
MSPal Inc
Mubadala
N H Kelman
N.T. Ruddock Co
National Alloys
National Material of Mexico
Nature Alu
Nemak
Nestlé
Nestrade Procurement Division
Neuman Aluminium Impact Extrusion, Inc.
New England Foil
New Process Steel
Newgate Global Markets, LLC
Nexans North America
Nexidus Commodities
Nihon Ispat Pvt. Ltd
NIM Group
Ni-Met Metals
Nippon Steel Trading Americas
Nippon Steel Trading Mexico
Nissan North America
Norsk Hydro ASA
Norsk Hydro Brazil
Novek
Novelis
Novolex
NT Ruddock                                            OAPIL                                            O'Neal Flat Rolled Products
OCP Group
Oldcastle BuildingEnvelope
Olympic Steel
Oman Aluminum Rolling Co.
OmniMax International
Omnisource
Omnisource Mexico S.A. de C.V.
Operadora Gisel
Orbit Aluminum Industries
OSE Industries LLC
Ospraie Management
Outotec
Owl's Head Alloys
Pabst Brewing Company
Pacific Northwest National Laboratory
PACIFIC RECYCLING MATERIALS CO.,LTD.
Pacorini Global Services
PADNOS
Page Material Management
Page Trucking
Paragon Global Markets
Patrick Industries
PAXFORD
PCP Aluminium
Pella
Penny Plate
Penske Logistics
PepsiCo
PerenniAL
Perfiles de Aluminio
PLS Logistics Services
Ply Gem Industries
Port of New Orleans
Port of Virginia
Precoat Metals
Prestadora de Servicios de Centroamerica, S.A.
Prime Materials Recovery
ProAmpac
Procesadora y Recuperadora Alumar , S.A. de C.V.
Progresum International
Promotora Industrial GIM
Properzi International
PROSODIO
Prosvic
ProVia
Prysmian Group
Prysmian NA
PT KALIMANTAN ALUMINIUM
Qatar Aluminium Limited
Quality Aluminum Products
Quality Edge
Quebec Government Office 
Quor Group Limited
R&G Metal Trading
Rabobank
RAFFMETAL SPA
RAMSA
Rank Group
RBC Capital Markets
Real Alloy
RealTruck
Recuperaciones Industriales Internacionales, S.A. de C.V.
Recycle WV
Refresco
Reibus International Inc.
Reliance Steel & Aluminum Co.
REV Group, Inc.
Reynolds Consumer Products
Rheem Manufacturing Company
RIISA
Rio Tinto Aluminum
Rioberg International Trade Co.
Ritchey Metals Company
Rivore
RM Metals
Robert Bosch GmbH – M/PUR82
Ronal Group
Royal Bank of Canada
Royce Corp.
RPR Products
Rusal Marketing GmbH
Ryerson
S.A.DAMM
S.I.C. Recycling, Inc.
Samuel, Son & Co.
San Diego Aluminum Products
Saudi Arabian Gen. Investment Authority
Scepter, Inc
Schagrin Associates
Schnitzer Steel
Schrott24
Schupan and Sons
Secat, Inc.
Sector3 Appraisals
Securing America's Future Energy Foundation
Sempra LNG
Service Aluminum
Service Center Metals
Servicios Cuprum S.A. de C.V.
Seven Shores
Shapiro Metals
Shawinigan Aluminium
Sierra Aluminum
Sierra Resources Intl.
Silgan Containers
Sims Alumisource
Sinobec Resources LLC
SinoMetal Resources Inc
Skana Aluminum Company
Smelter Service
SMS Foremex S de RL de CV
Societe Generale
Sohar Aluminium
Sortera Technologies
Sotrem inc
South32
Southern Shores Metal Mgmt. Group
Southwire Co.
Spectro Alloys Corp.
Speira GmbH
SPX Investimentos
Standard Chartered Bank
STAS
State Metal
Steel Dynamics
Steel Resources
Steelbro International
SteelForce Packaging
Steelmet
Stena Metal International
Stena Recycling Group
Stonex Financial Inc
Stout Risius Ross
Sultana Group
Sumitomo Corp.
Sunberg Limited
Superior Aluminum Alloys
Superior Essex
Superior Industries
Swire Coca-Cola
T. Parker Host
T.S.T. Nikkei Metales
Tachen Int'l
Takamul Investments
TALUM d.d.
Tank Connection
TD Securities
Tempo Global Resources
Tennessee Aluminum Processors
Tesla
Tetra Pak Packaging Solutions
Texarkana Aluminum
The Aluminum Association
The Beer Institute
The Boeing Company
The Coca-Cola Company
The David J. Joseph
The Federal Metal Company
The Huntington National Bank
The Vollrath Company
Thyssenkrupp Materials
Tin Man
TOMRA Sorting
Tonic Fusion SA de CV
Toronto Dominion Bank
TotalEnergies
Tower Extrusions
Toyal America
Toyota Tsusho
Toyotsu Smelting Technology
Trade Cloud Services
Trafigura Trading
Trane Technologies
Traxys Europe
Traxys North America
Trialco
Tri-Arrows Aluminum
Triland Metals Americas
Trinidad Benham
Trinity Metals
Triple M Metal
Trivium Packaging
Truck Hero
TST
U.S. Dept of Commerce
U.S. Intl. Trade Commission
UACJ (Thailand)
Ulbrinox S. de R.L. de C.V.
Ultra Aluminum Mfg
Uniseven
United Aluminum
United Scrap Metal
Unity Aluminum
US Magnesium
USALCO LLC
USCF Investments
Utilimaster
Vail Rubber Works
Valeo North America
Value Added Processing, Inc.
Vanir Trading & Consulting
Vasconia Brands, S.A. de C.V.
VB Metal Solutions
VDL ETG Almelo
Vedanta
Venetia Partners
Viohalco
VIPA Lausanne SA
Viridor Resource Mgmt.
Vista Metals
Volkswagen
VOLTA ALUMINIUM CO.
Volvo Group Purchasing
Vorteq Coil Finishers
Votorantim
Vulcahierro
Vulcano Alloys
W Financial
Wabash Castings
Wagstaff
Wahl Refractory Solutions, FREMONT, OH
Waybridge
Webb Global Transfer
Weiss Multi Strategy Advisers
Wells Fargo Bank
Werner
Western Extrusions
Westlake Chemical
WF Trading Services
Wheel Recovery Systems
Winpak Heat Seal Corporation
Wisconsin Aluminum Foundry
Wise Alloys
Wis-Pak, Inc.
Wogen Resources America
Wolfe Research
Wolverine Tube, Inc
Worthington Industries
XIAMEN C&D ALUMINIUM
Yasuda Metal Industries
Zenrinna Inc
SOURCE: HARBOR'S ALUMINUM SUMMIT ATTENDEE REGISTRATIONS 2011-2023 (SAMPLE LIST. REFERENCE ONLY.)